Telenor Arena
Norway's leading indoor multipurpose arena
2018 UPGRADE 
In 2018 LYNGSAA upgraded the indoor Arena

luminaire at the Telenor arena, with new state of the art Bridgelux LED's and reflector to get a more even light distribution on the arena floor.

LYNGSAA also delivered another 20 New ITL 48, also with the state of the art tecnology and new reflector.
THE CHALLENGE
Complete illumination of of 10.000 m² arena floor
Flicker-free light with high color rendering (CRI)

 

for HDTV/4K recordings
Extreme requirements for rapid temperature changes under 
arena ceiling
Floor luminance > 1300 Lux in 23m distance
Individual lighting solution for the grandstand illumination
Arena facade illumination with programmable color effects
Illumination of outdoor space including entrances, parking area, etc
Existing solutions on the market were of inadequate performance
10000 m2
arena floor area
420 m
facade with programmable wall-washers
OUR SOLUTION
Custom developed LED Arena luminaire with 100,000 lumen output
Custom developed LED Grand Stand luminaire with 60,000 lumen output
Integrated DMX dimmer control for individual programming of each luminaire
100% flicker-free and Ra/CRI > 98
Active cooling to withstand rapid temperature spikes
Facade illumination by programmable RGB wall-washers, providing spectacular visual impact of the arena
Overall energy savings of 45% compared to previous installation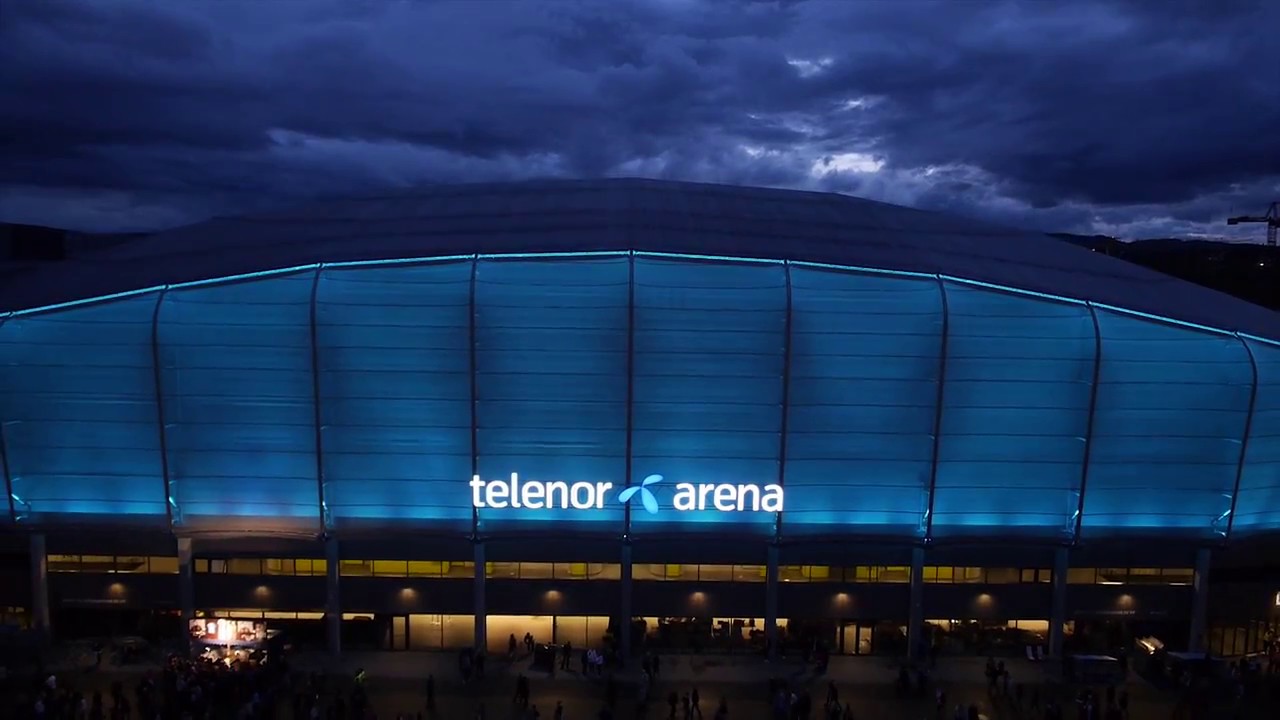 Overall energy savings of 45% compared to previous installation
ABOUT TELENOR ARENA
Telenor Arena is Norway's leading indoor multipurpose arena for concerts, events, exhibitions, sports, family shows and more
Opened in 2009 in Fornebu, Oslo installations upgraded in 
2014-2015

Multipurpose Arena with 10,000

m² full-sized soccer field
Capacity of 15,000 seats and 23,000 for concerts
Hosted concerts by among others The Rolling Stones, Justin
Timberlake, Justin Bieber, Rihanna, Foo Fighters, Beyoncé, Bruce Springsteen, and Roger Waters
"At Telenor Arena we strive to provide the best total experience for our audience and customers in terms of visual and technical perception.
LYNGSAA managed to succeeded in providing a unique illumination both indoor and outdoors that we could not find elsewhere.  The light quality inside our Arena is second to none, and the visual impression of the Arena building is astonishing, thanks to the technological expertise provided from LYNGSAA.
Build quality and service from LYNGSAA has been impeccable, and we are proud to have achieved the highest ranking Arena light quality measurements."
Marius J Hansen
COO, Telenor Arena